Seventy years after Little League started in Canada, it has grown into an institution for Canadian youth. More than 3 millions young people are playing worldwide making it the largest amateur volunteer sport organization in the world!
We at Artik are proud to work with Little League teams across Canada! We've been printing custom baseball jerseys and merchandise for over 30 years here in Toronto, every year it's a pleasure to see new and returning teams get decked out in matching uniforms.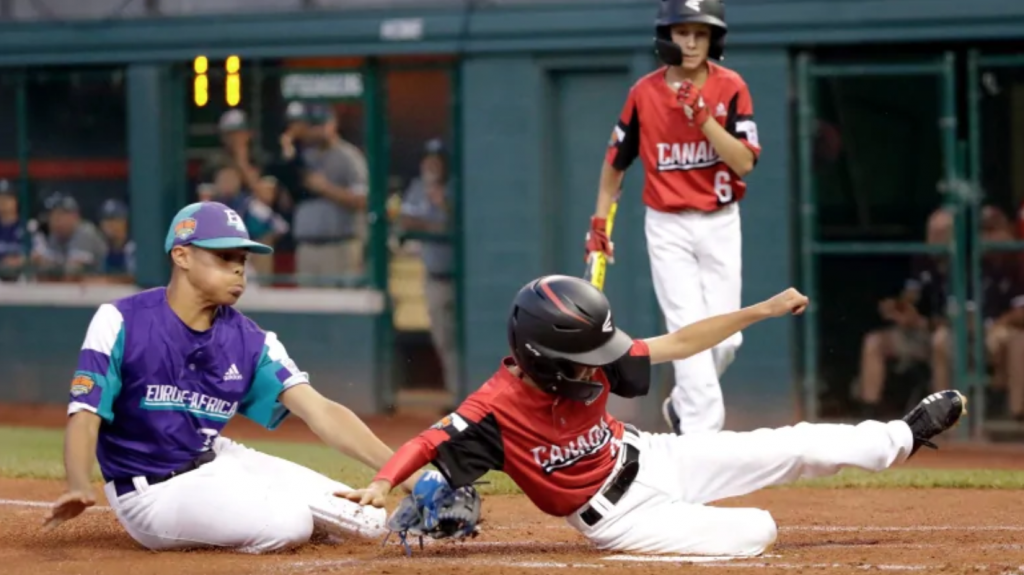 A little about Little League
Did you know Little League Canada has only two employees? Hundreds of volunteers make sure the players are supported by managers, coaches, umpires, league administrators and more. For the 75,000 Canadian Youth who play baseball in Little League, it's more than a sports league – it's a community.
As you can see this ain't kid stuff. Little League Baseball involves hours of practice and a spirit of competition.
Custom Baseball Uniforms
Ordering Jerseys for Your Little League Team
It's hard to beat the moment you open the Artik boxes and hand out customized uniforms to every member of your Little League team. We recommend adding the team logo, player names and numbers to each jersey creating a keepsake that your players will hold onto for years.
Respect. pic.twitter.com/e3yUMtYYB6

— Little League (@LittleLeague) December 26, 2019
Tip: Order a few baseball jerseys with no name on the back. These are perfect for new players or especially forgetful players who lose their jersey.
The six styles of baseball uniforms:
1. Two-Button Baseball Jerseys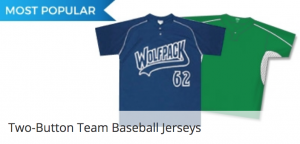 Custom 1, 2 or 3 button baseball jerseys have that classic baseball jersey style at an affordable price. These uniforms come in five styles and a ton of colour and size options making them a great choice for Youth baseball leagues.
2. Full-Button Baseball Jerseys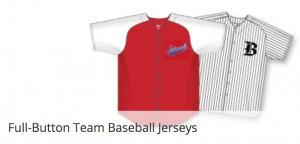 Full button baseball jerseys have the most professional look, matching the style worn by Major League Baseball players. The only disadvantage is these jerseys come at a higher price. Check out the variety of styles including pinstripe and two-colour uniforms on the full-button jersey page.
Tip: With full button uniforms, your design will have to be printed on either side of the button seam. Most teams choose a front left chest design with player names and numbers on the back.
3. V-Neck Baseball Jerseys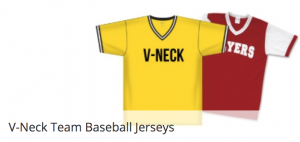 These custom V-Neck baseball jerseys are attractive and lightweight at a great price. Choose the right colours and design to make a truly awesome looking team uniform at a lower price.
4. Women's Baseball Jerseys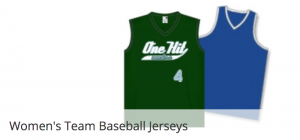 While the baseball uniforms above are unisex, these custom Women's baseball uniforms are comfortable and great for women's and youth girls teams. These jerseys can be customized with player names and numbers on the back and your team's logo printed on the front.
5. Sublimated Baseball Jerseys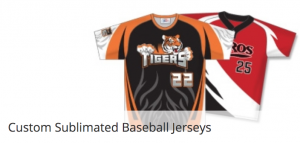 Custom sublimated jerseys are a little different from all the other options listed above. These unique jerseys have a full colour digital design printed right into the fabric of the uniform. Sublimated jerseys can look as colourful as the rainbow but the high price keeps most youth teams from choosing this style.
6. Baseball T-Shirts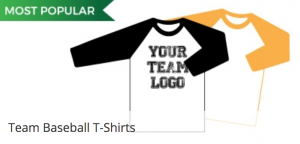 Last but not least is the custom screen printed baseball tee. These long sleeve t-shirts have a classic baseball style and come at a low price. This style of uniform has gotten wildly popular in recent years because it looks pretty cool and the price is right!
Beyond the Jersey
Branded Merchandise for Your Team
If you've got a ton of community support, your team can raise money and team spirit with branded merchandise. Here are a few suggestions for branded merchandise we offer at Artik.com:
Branded Water Bottles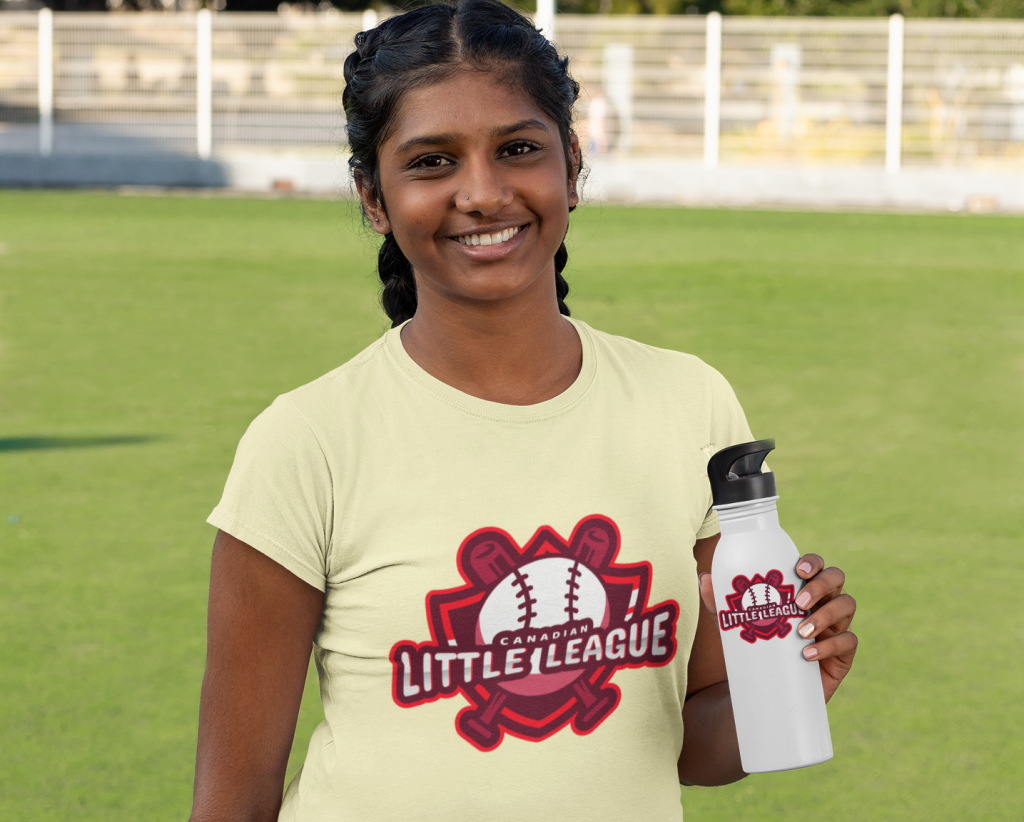 Put your team logo on reusable water bottles of any colour and style. Check out our custom water bottle page to browse metal, glass and plastic bottles that are perfect for players and fans.
Baseball T-Shirts for the fans
Let the parents and supporters in on the team spirit with fan t-shirts. Pick a shirt with matching colours and add your team logo.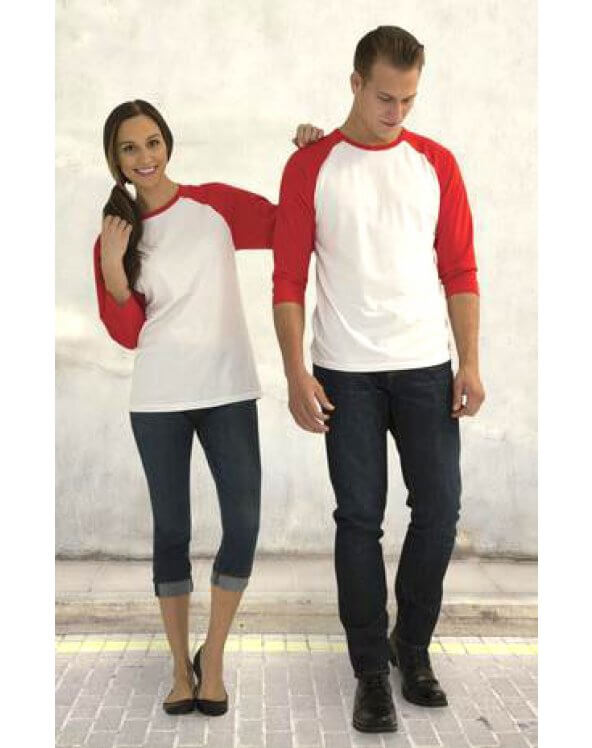 Tip: Order a variety of sizes, everyone from siblings to grandparents might want a fan tee! If it's in the budget, include extras for your players so they can show their team pride on and off the diamond.
Baseball Caps
Custom embroidered baseball caps are a really awesome product for your any baseball team. Not just because it's a sunny sport that requires focus, but because embroidered caps look good!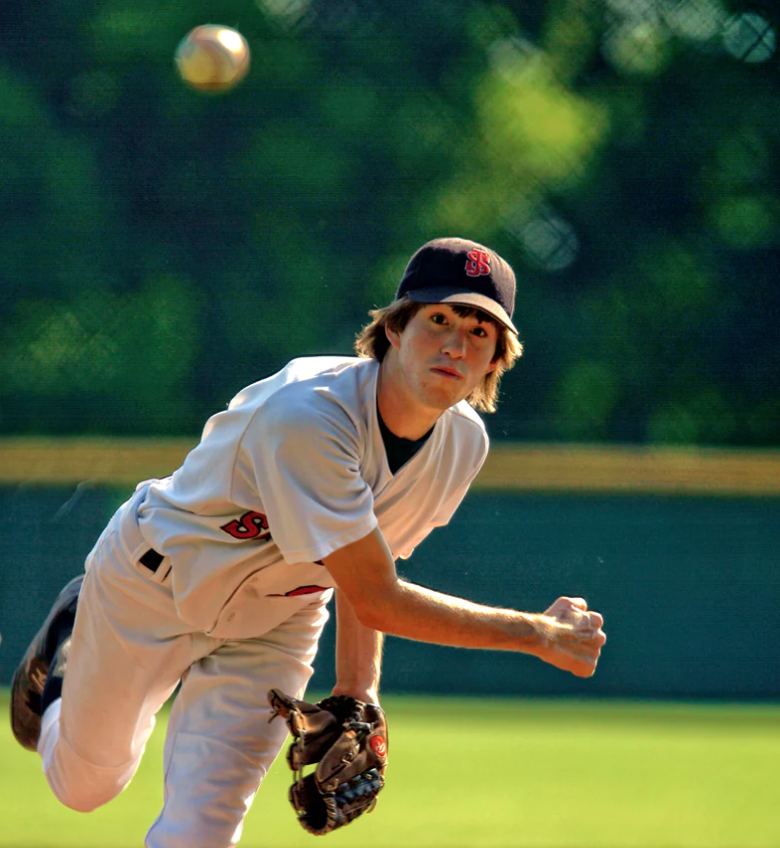 Caps can be worn by volunteers, fans and the players themselves to give a professional look to the team while raising funds for celebratory pizza dinners. Best part is, these caps are durable and will look great for years making them a valuable keepsake and an evergreen merchandise product that can be sold for multiple years before needing a redesign.
Final thoughts
We've got a million and one products and team uniforms over at Artik.com so be sure to browse around and get some ideas. How about branded lapel pins with your team's logo? Or custom embroidered patches for your team?
The possibilities are endless!
We're excited to help make your team look great as they have fun playing Little League baseball.