Quick Guideline: Select a Product > Start Designing > Save Design > Continue:
Option A) Order Now > Review Pricing > Add to Cart > Checkout
Option B) Contact Us > Receive a link to your design, and a customer service rep will reply to your questions.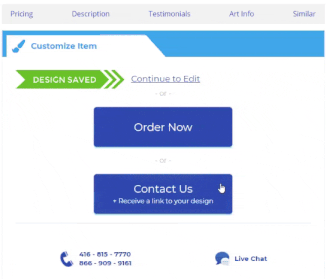 ---
Step by Step Guide [View/Download the PDF]
FAQ

Can I get a link to my saved artwork?
Yes, after saving your design, you will see some options to continue: Order Now or Contact Us. (Refer to page 8 of PDF)
Click on Contact Us and enter your email along with your questions. The button looks like this:

Then you will receive an auto email response containing a link to your design. You can share or continue to edit from the link.
If you have included other questions to the message, our customer service reps will response within the same or next business day.

I cannot find my saved artwork. How do I proceed?

If you have saved your design, but did not continue to the next steps, you may contact us at info@artik.com
Kindly let us know the design name you have saved, as well as the date. Our team will be able to retrieve it from database.

Where can I add names or numbers for my sport jerseys?

You can generate a sample preview with our stock font in the online design studio. The font can be found under Collegiate Category: Artik Stock Font. [Image Guide]
Then we recommend emailing the full list (Name/Number/Jersey Size) in excel format directly to our customer service reps or info@artik.com
Excel Template: Names/Numbers Form [Download],Numbers Form [Downlaod]
Please note that adding stock numbers are $5 per jersey, and custom names are $10 per jersey. [more info]
If you have any further questions, please feel free to contact us.