Custom Screen Printing
Artik has been screen printing since 1985. Over the years, we've gained a great reputation as Toronto's expert screen printing shop. Not only are we the best screen printers around, we're friendly, too!
Interested in some screen printed products? You can meet our team and watch t-shirts being designed, printed and given to happy customers. We're not kidding! Contact Us and we'll give you the tour :)

For screen printing, our minimum quantities are 12 pieces per design.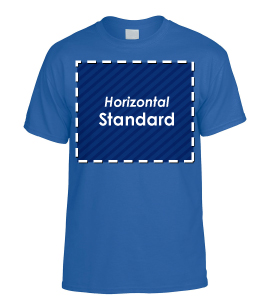 Horizontal Standard
Maximum Print Size:
14"w x 12"h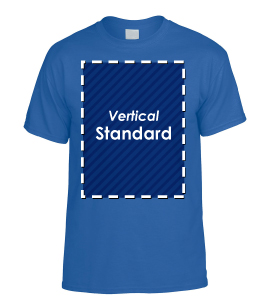 Vertical Standard
Maximum Print Size:
12"w x 16"h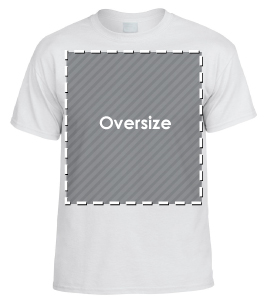 Oversized Print*
Maximum Print Size:
16"w x 18"h
*Oversized print charges will apply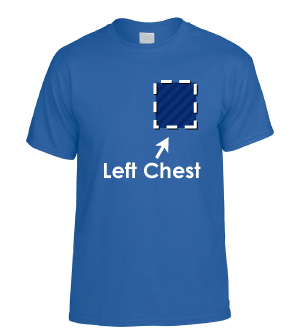 Left Chest
Maximum Print Size:
4"w x 4.5"h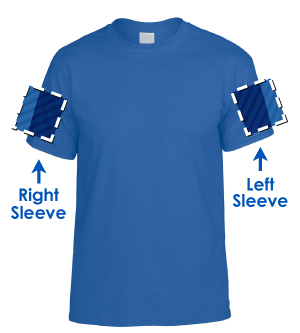 Sleeves
Maximum Print Size:
4"w x 4.5"h
*The print has to be 1" away from seam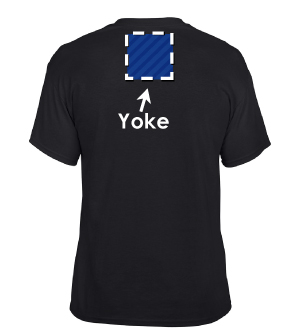 Yoke Print*
Maximum Print Size:
4.5"w x 4.5"h
Stock Inks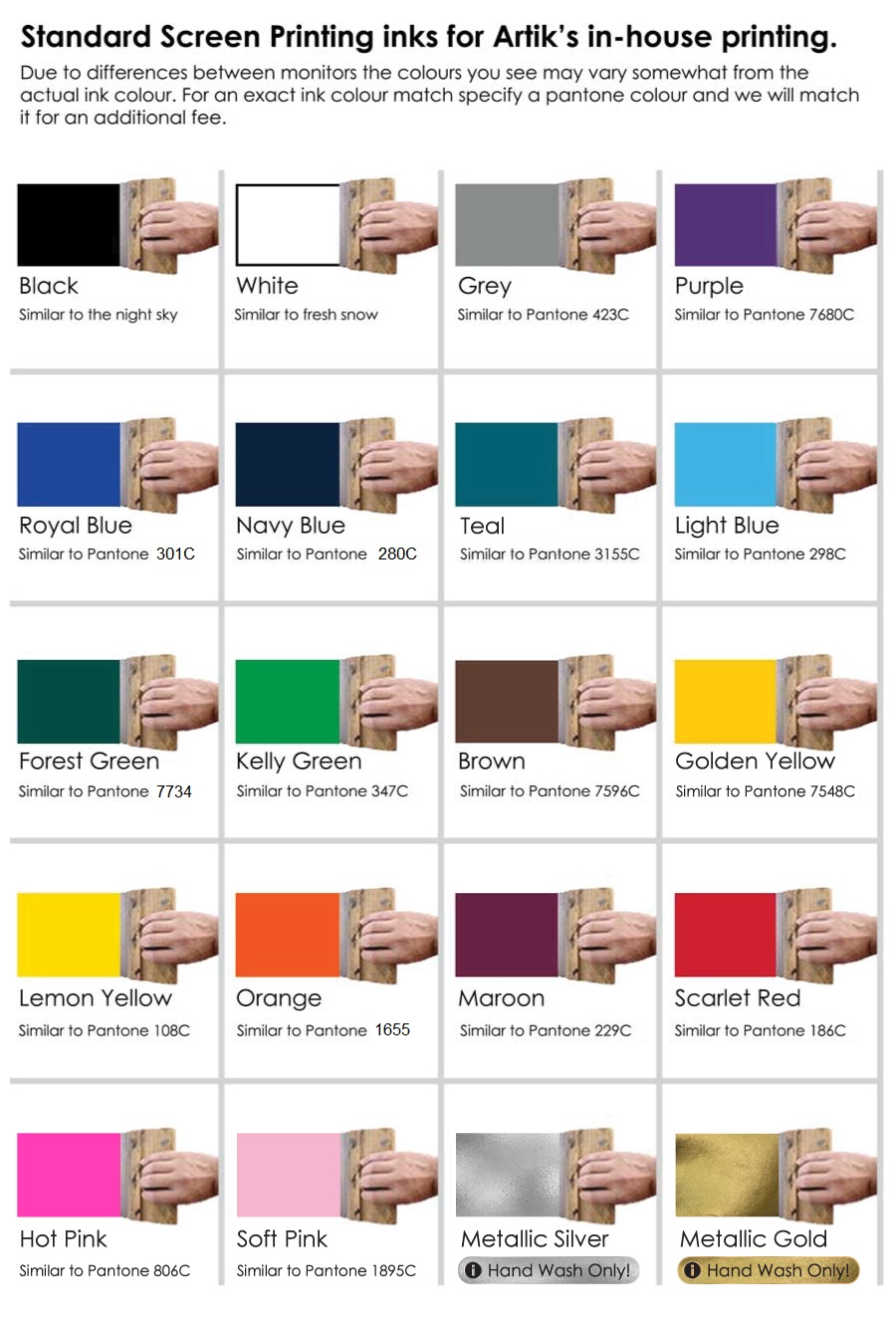 Screen Printing Process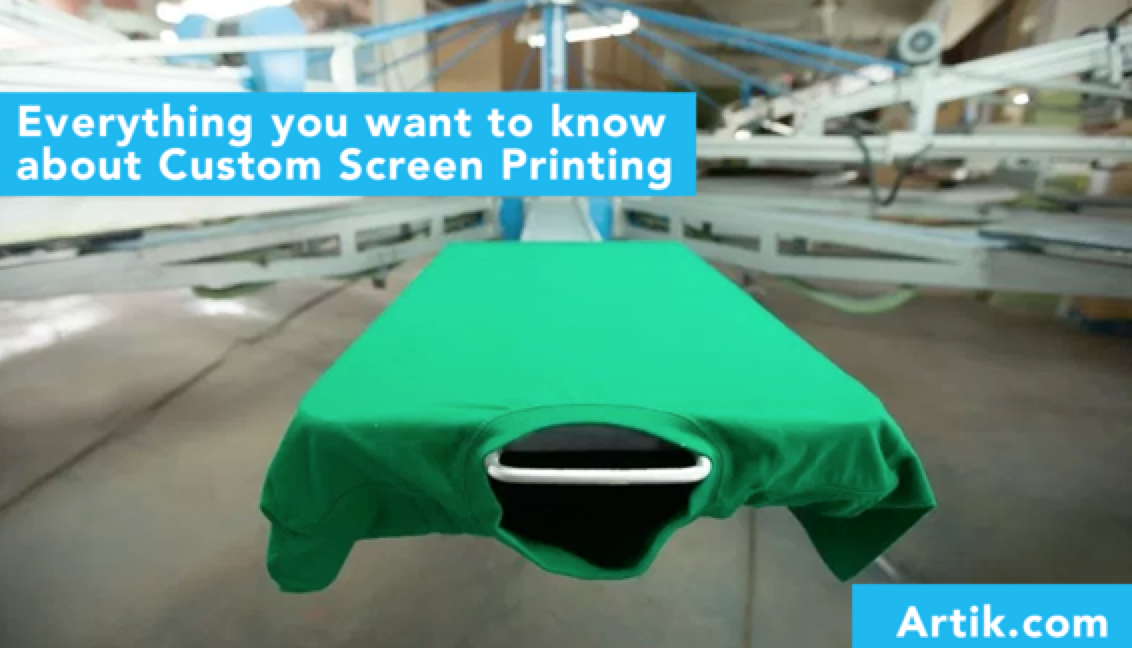 Screen Printing Process
Part 1. Making an Order
Our friendly Sales Reps will help you from start to finish.
1. Explore Artik.com to find a t-shirt you want to have screen printed.
2. Click Contact Us to reach our friendly staff.
3. Together we'll talk about t-shirt styles and sizes, screen print locations, establish deadlines and sort out other details.

Part 2. Sending Your Art
Send it to us by email through the Contact Form or use the Design Online Tool to create a mockup.
4. We accept artwork as either a Vector file type (.ai .cdr .eps) or a High Quality Raster file type (.psd .jpg .png .pdf). If you have a Photoshop file, send it to us with layers at original print size.
5. Make sure the design is in high quality format and lines are not too thin. Bold lines print better for screen printing.
6. For more information, check out our Art Guide

Part 3. It's In Our Hands
Our experienced team will get your order done right and on time.
7. Our graphic designer prepares your artwork for screen printing by separating each colour.
8. We expose the art onto screens with a bright UV light. The light hardens the special emulation on the screens, the areas with the art on the film shields the screen, these areas remain soft.
9. Pressure-wash the screens to clear out the mesh.
10. Dry the screens and block out any pinholes.
11. Now we mix the inks to get the perfect colour.
12. Do a screen print on a test t-shirt to ensure that everything looks good.
13. If the screen printed test sample looks good, we load the t-shirts on the pallet. A bit of spray glue helps to keep shirts steady on the pallet.
14. On our manual machine, the t-shirts are hand screen printed. For larger runs, our automatic machine screen prints the ink onto t-shirts mechanically. On dark t-shirts, we screen print some colours twice for extra vibrance.
15. We put the screen printed t-shirts through our dryer. This ensures that the inks are cured and that the screen print will last a long time.
16. Fold the t-shirts and box them up!

Part 4. It's In Your Hands!
17. Now you can pick up your screen printed t-shirts or we'll ship them to your door.
18. If there is any problem, contact us and we'll make it right.
19. Please let us know how we did with a review on Facebook, Google or Yelp!

Thanks for choosing Artik Toronto!
FAQ
Custom Screen Printing FAQ - Artik Toronto
Artik has a reputation as one of the best custom t-shirt screen printing shops in Canada. Over the last 32 years, we've screen printed custom tees for thousands of happy customers! This article is a basic introduction to screen printing, if you have any questions, contact the Artik staff


What is screen-printing?


Say you want to customize tees or sweaters with your own designs. Sure you could take a sharpie and draw on the fabric, but the washing machine will wash the ink right out!
Screen printing custom t-shirts puts permanent ink onto the fabric. Your design will look colourful and crisp, and it won't wash out. You probably have a few screen printed t-shirts, tote bags and sweaters in your closet.


Who Orders Screen Printed Apparel?


We have all kinds of customers order custom screen prints from our shop. Many businesses get custom printed shirts for their employee uniforms. A company logo can look great on the front chest with a fun slogan on the back of the shirt!
Artists often come to Artik to get their unique characters and designs printed on customized tote bags or apparel. These custom printed tees are often sold at festivals and fan shows. We also screen print t-shirts and merchandise for bands to sell at concerts or for charities to sell at fundraisers. The list goes on.
Our shop in downtown Toronto has a dedicated print staff who take pride in producing custom screen printed apparel for all kinds of customers.


How does Artik custom screen print tees and other apparel?


You can watch our video on screen printing here.
First contact our friendly Artik sales representatives. Your dedicated rep will help you get your design file ready for custom screen printing.
Next, our graphic designers will separate the colours in your design and print them onto individual screens. These screens have a fine mesh, allowing oil-based inks to be squeegeed through and applied to the fabric.
Your custom t-shirts are screen printed and placed onto a heat dryer which seals the inks onto the fabric. We fold each t-shirt or sweater and put them in boxes, ready for your event or apparel sale.


How Can I Save Money on Screen Printing T-Shirts?


When you're ordering custom screen printed goods, consider limiting the number of colours in your design. Sometimes a simple two colour print can be just as beautiful and powerful as a design with tons of colours.
We also recommend buying the t-shirt that fits your budget. SoftStyle Gildan tees look great and feel comfy for a lower price than our fashion-fit Bella or American Apparel t-shirts. All of our t-shirts and apparel are perfect for custom screen-printing.


How long does it take to Screen Print T-Shirts?


From the time your order is processed, it will be 5-7 business days until your screen printed apparel is ready. For a charge, you can get your custom tees screen printed in a rush.


Can I try sample apparel on?


You can visit our shop in downtown Toronto to check out different samples. We're always happy to visit and answer questions!


Can You Screen Print Specific Colours?


If you have a specific colour you want screen printed on custom tees, please provide us the pantone number. For screen printing, we use the Solid Coated "Pantone Matching System (PMS)" which allows us to mix inks to precisely match your colour. If you don't have a coated pantone number, provide us the CMYK value and we will match it to the closest PMS Colour available.


Why Choose Artik for Custom Screen Printing?


At Artik, we're proud of our screen print quality. Over the past 32 years, we've refined our process, purchased the best machines and gathered an expert custom screen printing team.
Our mission is to provide you with the highest quality custom screen printed goods delivered on time for a fair price. We opened our doors in 1985 and we've served thousands of happy customers. If you're looking for custom screen printed tees, personalized sweaters, logoed tote bags or any other screen printed item, we hope you choose Artik. We look forward to printing your design!
Start by browsing the popular products below: