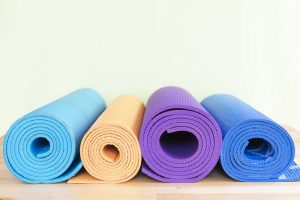 Springtime often brings with it the inspiration to get outside, be more active, and make positive changes involving health and wellness. From urban favourites like running, yoga and cycling, to fitness trackers and swimming solutions, health and wellness promotional gifts appeal to a wide audience while also spreading your unique message and positioning your brand as one that cares about your customer's wellbeing.
Health and Wellness Promotional Gifts to Give This Spring
When your focus is on health and wellness promotional gifts, there are a variety of high-quality products that will encourage a more active lifestyle and help to get the word out about your business, organization, or non-profit group. Check out these five health and wellness gifts that are perfect to give this spring season.
1.Yoga Mats
For the fitness enthusiast, a yoga mat is a practical and worthwhile product that will be used again and again. Mats are made of high-quality, extra thick PVC and include a carrying bag with shoulder strap. This allows a yogi to take their mat – and your message – with them to the park, the gym, or anywhere their group is meeting. Your customers and all the participants in the class will see your logo and message again and again.
2. Reusable Water Bag
Reusable water bags are foldable and easy to take along to work, school, or the gym. The collapsible design comes with a lid and will roll up when not in use. Water bags stand upright when filled with liquid, making them both portable and convenient. Water containers like bags and bottles can be personalized so that your brand is shared every time your customer takes a sip.
3. Wrist Wallets
If your clients are active in walking, running, cycling, or other sports activities, a zippered wrist wallet is a lightweight option they can use to take your brand on-the-go. A wrist wallet can hold an ID, cash, hotel card, keys, and credit cards safely and close to the wearer.
4. Shaker Bottles
Shaker bottles continue to be popular for nutrition shakes, healthy smoothies, and meal replacement drinks at home and away. A secure lid, high-quality plastic materials, and plastic shaker ball all contribute to a design that blends and delivers healthy ingredients (and your branded message!) just when your customers need them.
5. Fitness Trackers
Fitness trackers continue to be popular among exercise enthusiasts, but also with individuals who just want to be sure they are getting in all their steps for the day. A wrist pedometer band includes an LED display with time, distance, calories burned, and steps taken so that the user can stay on track and keep fit during daily activities, all with the help of your brand.
Partnering with a Printer You Can Trust
When you are ready to give the hottest health and wellness promotional products to help market your brand, the first step is to find a reliable, knowledgeable, and modern printing company that can create what you need. A qualified team will help you make the right choices about materials and guide you in finding the right product and the right type of printing and volume amount for your business, team, or special event.
Artik's custom printing product and service lines can help your small business or non-profit increase its exposure and market itself as a leader in your community. Printed promotional products are a cost-effective, unique, and long-lasting way to spread your message and keep your brand top of mind. As an authority in the printing industry, Artik is positioned to provide advice on the best products for brand awareness and see you through the printing and shipping process hassle-free.
Contact us today to discuss your health & wellness promo product project.