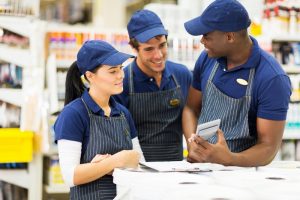 When a charity, company or retail chain has scaled up to a certain point and has a large number of employees or volunteers, it is often no longer practical to hold to the same uniform ordering processes used when there were only a few people on staff. When they reach this point, businesses of all types have the opportunity to implement uniform programs that are efficient, time-saving and cost-effective, alleviating stress for everyone involved.
Uniform programs are a hassle-free way for retail chains, franchises, and charitable organizations to allow their store managers, franchisees, and volunteers to order (and reorder) branded apparel for their team. Rather than having a team at a head office location coordinate the production, shipping, and payment of uniforms for dozens, or even hundreds, of locations across the country, a webstore-based uniform program lets approved personnel login, order, pay, and get the branded apparel they need shipped to them, with no administrative overhead; the online store will communicate directly with the printer to fulfil the orders and process payment.
The first step in the process is to connect with a trusted and experienced uniform provider, one who will listen to your needs. This team of professionals will take the time to understand your unique business situation and get you set up with the best uniform options for your employees or team.
Creating An Inventory & Easy Re-Order Process
Convenient ordering and shipping methods mean customers; franchisees and employees can receive their products with ease. By setting up a program for a web store, businesses are able to order and reorder printed products (with the same design) effortlessly. When a new order comes in from any franchise location it is simply printed or pulled from an already printed inventory and shipped out to the saved address. This saves businesses a lot of time and administration.
This efficient system of designing, ordering, and allowing managers to secure uniforms online provides charities and businesses with the peace of mind that comes with knowing their needs are taken care of. When a company like Artik handles the stocking, shipping, and pre-authorized payments, it allows business owners and supervisors to have one less thing to worry about and delegate accordingly.
Printing Process
innovative and efficient methods of printing, Artik will pre-print the merchandise you need with your choice of graphics or unique message. By following the simple steps online, you can set up your account, upload your artwork, and we will take care of the rest. In no time at all, your custom design will be ready for sale and promotion.
Connect with a Trusted Uniform Specialist
A uniform program is a unique way to secure what you need for your employees or team of volunteers at the moment you need it. For businesses and groups who need re-occurring orders of the same prints, our convenient process allows you to design your apparel, have it printed and shipped right to your door when it's most convenient.
As a trusted and experienced printing team, the professionals at Artik are committed to working with your organization in order to help you create a successful program. We can handle orders of large volume, hold stock until you're ready to receive your products, provide trusted advice, and deliver quality customer service to you on a consistent basis.
Contact us today to inquire about a uniform program for your organization.